Dear Shark Divers!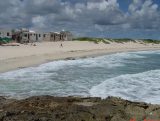 The bottom report on Aquamarinas and Volker Pohl we can only fully agree (and I do not want to repeat anything here). We were in Cozumel last week (late June 05) and have been looked after by Volker in every way, which was super. We felt that the best dive sites were selected for us (of course with our permission); or are all dive sites so beautiful in Cozumel anyway? 😉 The length of the dives was based on our air consumption. Not a single one of our dives was shorter than 50 minutes! That Volker is a biologist was also very beneficial to us. All you have to do is describe what you have seen, he definitely knows every fish. We had borrowed the equipment completely from Aquamarinas and we cannot complain about it. In addition, you do not even have to wash it yourself after the dives, you don't have to assemble it yourself (if you don't want to). Volker's service also includes a logbook print we received at the end of the week (with the most important dates and animals of the TG). Although a bit pricey but definitely worth the price, was the Cenote Diving. Two cave dives with a partner of Aquamarinas cost $140 and are an experience that should not be missed on the Yucatan. Also we found our hotel (Tamarindo) thanks to Volker and were very satisfied with it. For all those interested in technology: Aquamarinas also offers trimix and decompression dives.
Karo & Andi
Diving with Volker Pohl in Cozumel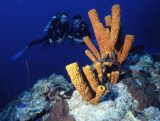 We dived with Volker Pohl in Cozumel, before he changed to Aquamarinas. The dives we did with Volker were always great. He fully responds to the wishes of his divers in terms of dive site, depth and speed of the dive (of course, everything within reasonable limits). As a certified biologist, Volker is the contact person for everything that has been seen from the animal kingdom underwater; he knows all about it and not only that, he always writes a logbook with all the fish that have been seen underwater on several dives. Volker dives only in small groups (max. 6 persons). If there are two dives in between, it will take about an hour to break the surface and there will usually be biscuits, fruit and drinks. Volker builds the dive-trip on request and makes a very good briefing before and after the dive. In regard to hotel and flight search he is also helpful, if desired. We can only recommend Volker and look forward to the next dives with him.
Katja & Till
Diving Report Cozumel / Mexico August 2005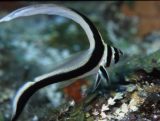 We were from 01.08. to 08.08.2005 guest in Cozumel. We stayed at the Fiesta Americana Cozumel Dive Resort, which is recommended, if you want nice rooms. Sure, it's not quite cheap, but it was all clean and worked flawlessly. It is there (as probably elsewhere in Cozumel also) more Americans, but the number of them from morning to evening at the pool bar overweight men drinking all-inclusive was clearly limited. You do not get great contact, but we did not want that much. It is quiet, no entertainment, but also 6 USD taxi one-way into the city.
It has to be said that we were there about 2 weeks after Hurricane Emily, so there was still a bit of cleanup to do. This was silent. It had swept away the great palapa of the poolside restaurant, so only – if you wanted to – the restaurant was across the street for breakfast and dinner. When that is rebuilt escapes my knowledge, but it did not bother.
We dived with Volker Pohl / Aquamarinas. We clarified this in advance by email, and it can only be clearly stated that Volker responds exemplary fast and also gives any information that you want to get. This made us feel good, as well as the diverse recommendations of third parties to dive with him, instead of relying on the name Blue Note. To Blue Note, I can not say anything anyway, have had no contact with Volker's former base.
We met Volker on the evening of our arrival, he came to the hotel, which I personally appreciated. Because in a personal conversation about a few tacos, much becomes clearer than emails or brochures. Volker left the choice of the dive boat – within the possible – us, i. He offered us either a speedboat or a slightly larger standard dive boat. On the first day we tried the speedboat, and it was certainly the right recommendation. It is about 3x as fast on the reef, and for the about 1-hour lunch break you can drive directly to the beach, where you are supplied with fresh fruit and snacks and can sunbathe a bit. But you can also buy a little something at the local bars, and some will be grateful for the existing, clean toilet facilities.
Volker rented a boat for us from another dive center, sometimes their dive guests or snorkelers were on board (max 8 persons). He has a boat "in the hindquarters", however, since the licenses for the UW Marine Park are limited, he may not go out there with this until he can take over a license of a then disused boat. This fact does not matter, you certainly do not have to worry that there is no boat for the exit.
In itself, the exits are always 2-tank dives, so an exit with 2 dives, with the intermediate surface interval is always 1 hour or a little more. Prices can be found on the homepage of Aquamarinas.
We especially liked that the pick-up at the pier of the hotel was not until 10 o'clock in the morning. That's holiday time! With the speedboat "overtake" then anyway the rather slower dive boats on the way to Palancar Reef, etc. Accordingly, then you are back quickly, so that the afternoon is also something. As a special treat Volker (or his crew) takes over the washing, storage and construction of the equipment, so we just had to hop on the boat in the morning, in the suit, and off into the water. And after the TG just get off at the pier, while diligent brownies take care of the equipment maintenance overnight. One may think that unnecessary, but this is absolutely pleasant !!! About rental equipment, I can not say anything, we had everything with us, but Volker had always replacement fin straps, glasses, etc, when other times something broke. Also oxygen is always on board.
The dives are all drift dives, but that does not mean that it drifts insane underwater. You jump into the water and let yourself drift past the reef while the boat follows at a safe distance.
What Volker promises regarding the length of the dives on his homepage or in emails, he also holds. We did not dive under 65 minutes! Also, the possibly of the friendly dive center accompanying us divers were so "selected" that they do not bring you up after 45 min. On the contrary, sometimes we have signaled under water Volker that it is now ok to tackle the safety stop. Otherwise he would have dived for 2 hours.
The dive sites are really beautiful, maybe I would call them Caribbean. There are steep walls, but also reefs with swim-throughs and adjacent sandy areas, but nowhere is it boring at any point. Anyone, however, would rather make a picture of themselves, you think I make no mistake, if you come to Cozumel for diving ..
Volker is very attentive to the dive itself and draws attention to the small things in particular. You would also see a manta for yourself (if you are not busy with spotted knight fish J). Volker shows a detail also on otherwise perhaps rather boring sand surfaces, about which one dives from time to time, which are really interesting and which one would never have seen in life. The dives are more comfortable, no speed records are set up.
And after the dives Volker can appeal to all the fish whose name you never keep in life, unless you are a certified biologist like Volker. To compensate for this inadequacy of the standard holiday diver, you get then from Volker at the end of a kind of logbook in which he meticulously lists not only the usual dive details, but also all his sightings. This gives you the opportunity to experience what you have seen with your own UW photos or a book of destination.
One day Volker also arranged a cenote-dive (better known as 2 dives), in which his friend Omar accompanied us. This is probably one of the absolute cave diving cracks on this earth. This trip was really an experience, Omar is absolutely relaxed and easy. If you want a 100% german organized tour, maybe you should rather dive with Harry. But if you prefer a really pleasant and cool guy, without compromising on security, then Omar is in good hands. The price is nothing, 160USD, but ferry crossing to Playa del Carmen is inclusive. But: getting up early was announced, we took the ferry at 7: 00h, but we were also the first divers in the cenote, although the others from PdC have a shorter journey.
Volker will also offer mixed gas and tech diving in the future. Even night dives (then from the port of Caleta) would be possible, but we did not do it.
During our trip we were Volkers only continuous dive guests, which we did not know before our trip. The rest were rather day visitors. This is probably due to the fact that Volker must first establish itself with his new venture. At the beginning we had – since we are otherwise romping on larger, anonymous bases – a little thought about a somewhat too individual and thus also somewhat obligatory care. It was absolutely unnecessary !!! Volker is always approachable, always friendly, obliging, informable, but never pushy or even prickly, if you want to take a day to explore the island.
So in Cozumel we were really lucky not only to have met a competent dive guide, but also a really very pleasant person. The diving with Volker and all the trappings were really impeccable. We can warmly recommend Aquamarinas. This does not only apply to individual travelers, but also to tour operators who want to include Cozumel in the program or already have it.
Stefan
Professional and well organized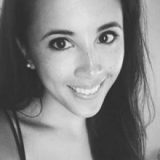 At the beginning of December 2016, my partner and I dived on Cozumel with Volker von Aquamarinas. Volker met us in advance in the hotel and informed us about everything. We had four unforgettable TG with Volker – everything went smoothly. Volker is well organized, the rental equipment was great and the crew of Deep Exposure is a dream – the on board atmosphere is great and everyone is very friendly. The dive sites on Cozumel are unique, we visited Palancar Gardens, Palancar Bricks, Mountains of Dalila and Paso del Cedral. Finally, we received a logbook from Volker, in which our TG were listed in detail and a list of all the animals that we have seen underwater – a dream for us as a diving beginner!
JaninJanin
Cozumel with Volker Pohl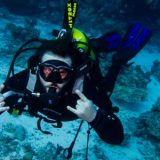 I came across the positive reviews here (which, however, are already a few years old) on Volker Pohl.
Have a Cozumel holiday booked (02.01.2017 – 08.01.2017), and what else is there other than diving?
So I wrote an email to Volker, who then promptly answered. The communication went smoothly and all questions were answered quickly and to my satisfaction and clarified.
Packed the junk, and over to the island.
One day before the actual diving adventure began, Volker came to my hotel and we checked the brevets ugdl.
a very detailed briefing on how the sequence of the next 4 days of diving will be organized. Furthermore, I received from Volker a multi-page description of the island of Cozumel with history, attractions, restaurants, bars, taxi tariffs etc … This information I found very useful and gave me some added value for my vacation.
Then Volker took all my scuba gear with me, which I thought was great!
The next morning I was picked up directly at the pier of my hotel (Secrets Aura Resort & Spa) from the boat of the "Deep Exposure" where Volker has rented. To my surprise, everything was already set up for me on the boat (bottle / reg / jacket /) and in position, so that I only needed to control more if everything was ok. I was not used to this service until now (mainly Croatian divers).
Normally you drag your junk in the heat criss-cross – Here everything is ready and you just slip into his suit, jacket, fins off, glasses on and purely into pleasure – STOP – almost – before of course there is a briefing The dive sites are explained in detail and the possible sightings of flora and fauna are discussed.
To the dives themselves:
Volker takes the time you need, and underwater he is just a true "knackers", so it has been very pleasant for a diver like me to follow him, and just let me take, because Volker is also a studied biologist and knows all the creatures and plants underwater very well, so that underwater really nothing misses.
Since we dived in the south / southwest of the island, we could also dive many underwater passages, canyons and the like, which remind in some places at St. Johns in Egypt. That Variety is always taken care of.
We observed many turtles, nurse sharks, eagle rays, barracudas, snapper, groupers, etc etc. and of course Volker also showed me the coral toadfish that only occurs on Cozumel (!)
Between the dives, we were supplied by Pepe, the on-board sailor, well with bread, guacamole, ham and cheese. Attention: his Pico de Gallo is tw. spiced with habaneros. If you are not used to spicy food, you should train yourself beforehand, as the food is really amazing! Pepe also helps you get out, takes care of the bottles and also takes care of the washing (washing) of the equipment.
After the dives, you simply leave your equipment on the boat – it is then hung by Volker in the base and prepared for the next day. The next morning you are so completely relaxed pick up at the pier, and the adventure goes into the next round.
On the last day of diving everything will be left on board and Volker will make an appointment with you in the evening. He returns to your hotel with your washed and dried-out equipment, and there is a debriefing.
The best thing is, however, that you get a several pages (!) Long logbook (see picture), where all dives and all sightings are described down to the smallest detail. From this wealth of detail, I was absolutely surprised and you could tell that Volker was a passionate diver and biologist!
So I can Volker without exception to everyone who wants to dive in Cozumel! It could not be better! I forgive 6 out of 5 stars!
I hope I can put my fins back into the water soon!
thebigmaf
Diving with Volker Pohl in Cozumel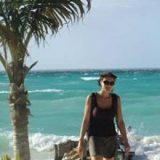 Our Mexico vacation 09.01.17 -27.01.17 started on Cozumel and of course the main goal was to make as many dives as possible. I actually wanted to get my diving license there in order to dive with my friend (already certified, experienced diver). Since on Cozumel the dive centers sprout up like mushrooms, we were spoiled for choice and decided at the beginning unfortunately for the "wrong" dive center. After the cancellation of the course and a new research we came across Volker. Although it was his day off, he immediately took his time and made it possible for us to do 2 very nice dives the next day. He has discussed everything exactly, the equipment has been adapted or tried on before. Everything was already prepared and mounted on the boat, as described in detail in the previous article. Underwater it was a very professional, calm, relaxed dive.
Volker is a very pleasant, sympathetic person. He saved us the diving holiday on Cozumel!
We can also recommend it to everyone without exception and would dive with him again at any time and decide for us no other dive center.
Cornelia
Dreamlike relaxed dives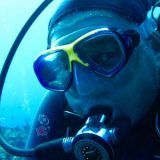 Diving with Volker Pohl, AQUAMARINAS Dive Center on Cozumel is a dream. Volker offers a service that I have never seen before around the world.
That's why the island became my favorite dive spot; I became a "repeat offender"; was already there four times! I've been traveling as a single for three years and am always looking forward to the personal atmosphere and the great care. No crowded boats and always great dives that never get boring. I live outside of San Miguel in a very recommendable apartment complex, where I am in the morning at 10:00 clock at the private pier right on the beach of the area, picked up. My equipment was washed out by Volker in the evening and was ready to be rolled up ready every morning. The evening before the first dive Volker comes to visit, brings a folder with information, also about the island and takes the equipment, so that you can tackle everything completely relaxed on the first day.
With almost all drift dives on Cozumel, it's super relaxed even underwater and no matter how much air is consumed by the individual diver, anyone can stop when he signals Volker that he wants to show up. Volker sets the buoy and the boat is ready to appear. After the divers are out of the water, the rest with Volker dives on.
The dives are always spectacular, in the afternoon with a bit more current. Never before have I seen so many animals on dives: nurse sharks in different sizes swimming or "asleep", turtles, eagle rays, stingrays, big barracudas, leopard groupers, giant crabs, lobster and lots of fish. Volker knows exactly where he finds which "animal" and is it still as hidden as e.g. the coral toadfish.
During the lunch break on the boat, there is always super delicious Mexican food. The boat crew is always helpful and in the right place when needed.
Single divers are also welcome at Volker. In October I had the privilege to dive with him on individual days alone.
A recommended diving spot, which is easily reached by plane to Cancun and the ferry from Playa del Carmen. So you do not have to live on the island, but can take the ferry in 45 minutes to Cozumel translate and spend a day diving.
Again a big thank you, dear Volker, for the great time; I hope there is a fifth time.
Pelo52
Just perfect!
We were in April 2 days with Volker diving and it was a dream.
Price-performance ratio and the all-round care you will not find a second time.
I did not feel insecure or uncomfortable for a second. The briefing really detailed and he was great on our skills and our wishes.
He knows the dive sites like the back of his hand and we had 4 breathtaking dives. You realize that he does it with passion and not just to pull the money out of people's pockets.
I wrote him an e-mail and he responded promptly and although it was so short-term he organized everything well. He also gives you some great insider tips on what you can do on the island except diving.
So if you dive on Cozumel then only with Volker Pohl !!
Dirk H.
Dreamlike

We stayed in September for just under 2 weeks for diving in Cozumel.
Volker takes care of EVERYTHING and diving is just relaxed, he finds everything and was able to explain new connections to us through his biology studies.
100% recommendable. THANK YOU.
M. Gölz
You have to dive with Volker!

Diving with Volker is great, fun, relaxed and just fine.
Before the dive Volker informs extensively about processes as well as the dive site and afterwards is talked about the dive. Since Volker is a biologist, he knows like no other!
The boat is shared with 1-2 other guides, including small groups of 2-3 people who also come from Cozumel (sharing the boat is not uncommon on Cozumel, as there are limited permits for driving on the Marine Park). The other guides on board are also super and always in a good mood (underwater you do not get much of the other groups, because you separate i.d.R.).
The boat crew is also awesome. Super nice, funny and ready to help. In addition, there is simply a delicious lunch on board between dives and water all you can drink during the whole trip – boat toilet is also available.
We have been with some dive centers, but Volker has made it by far to rank 1!
Thorsten Neumann
Drift diving at its finest

We were there on Nov 14
The owner and guide Volker Pohl is a great role model for us, his documentation of the TG grandiose.
Drift diving with safe company – a wonderful experience.
Species diversity has already animated Jacques-Yves Cousteau to his legendary films.
stroemungstauchen-vom-feinsten
Add your own Testimonial